Seeing the World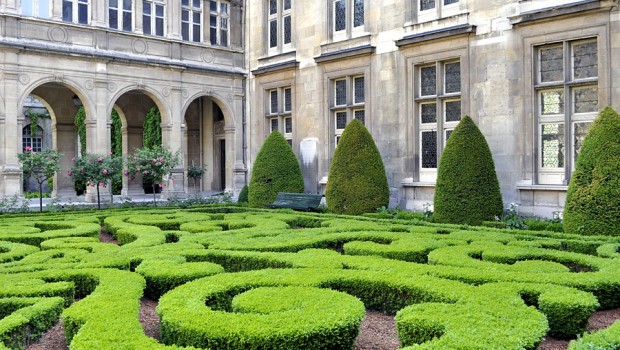 Published on September 6th, 2012
0
One Day in Paris
For as long as I can remember, I've been wanting to live in Paris. The beauty, style, architecture and atmosphere of the city make me fall in love over and over again. I'm not complaining; the city I currently live in is great, but there are moments that I daydream about an amazing life in Paris…
 I'd start my one day in Paris with a delicious breakfast at a lovely bistro. From my table next to the window, I'd spend some time people watching, whilst enjoying a cafe au lait and croissant – like a real Parisienne! Meanwhile, I'd try to come up with my plan for this beautiful, sunny day. A nice walk? Maybe some shopping? Would I have time to fit in a quick museum visit? One last sip of coffee and off I go!
Paris is always beautiful, but it seems to shine even more on a sunny day. Perfect weather for a stroll in one of my favorite neighborhoods, the Quartier Latin. This quarter is known for its student life, lively character and its many bistros. Just the right place for me! I'd definitely pay a visit to the Shakespeare and company bookstore, hoping to find some great second hand books.
Time for lunch. I'd cross the Seine and walk up to the Musée Carnavalet. No better place to sit down and relax than in the museum's garden. I'd spend some time enjoying a baguette and reading the book I just bought. Before heading to the shops I'd visit the lovely Place des Vosges, the oldest planned square in Paris, situated in the Marais district.
I love art, and no better place to be for that than in Paris! The range is so wide that I'd have a hard time choosing. With limited time in my busy schedule for the day, I'd decide to spend a small hour in the Picasso Museum, since I'd already be in the Marais district anyway.
The Marais district is known for its beautiful architecture but also for its many shops! Although several famous fashion houses are in this area, my credit card limit would only allow some window shopping. Luckily for me, there are also a lot of cool vintage shops I could check out.
When in Paris, I'd eat a lot. Blame the French cuisine. I love to find places off the beaten track, mingling with the locals, so for dinner I'd walk back to Île de la Cité. At Place Dauphine is a wonderful restaurant called Restaurant Paul, a very popular spot with Parisiens. More importantly, the food at this modern bistro is easily affordable.
After a delicious meal I'd want to finish the day with a nice drink. I'd hop on the metro to Rue Oberkampf and go to Café Charbon, a cafe that dates from the Second Empire of Napoleon III. The red banquettes, high ceilings and tarnished mirrors make you feel like you're in an old brasserie – I love it!
Of course this would only be a day in the amazing Paris life of my dreams. There are plenty of other things to do and to see, it might actually take a lifetime to discover it all. Speaking of which, it's about time I started booking my next trip. What are your tips for one perfect day in Paris?
This article was written by Eva on behalf of Easytobook.com, who have a great selection of Paris hotels available at the best rates guaranteed.