Seeing the World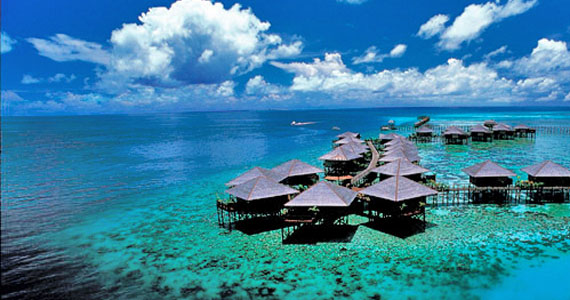 Published on November 21st, 2012
0
Sipadan Diving in Malaysia
Are you looking for the best diving place in Malaysia? Try to visit Sipadan Island in Malaysia. It is recognized as the most popular scuba destination in the South East Asia. This beautiful island is located on the east coast of Sabah, Malaysia. It lies on the north east corner of the world's 3rd largest island, Borneo. 
The popularity of the Sipadan diving Malaysia has already passed through the dive community. There are many divers consider this place as the best diving site in the world. The Sipadan Island, Malaysia is awarded as the "Top Dive Destination in the World" by Rodale's Scuba Diving Magazine.
There are many beautiful attractions that you need to visit when you are here. There are many different types of fishes living in this area, for example: barracudas, trevally, parrotfish, and many more. Diving in this place could be the most unforgettable moment for you in your life. When you dive in Sipadan diving spot, you will be able to see amazing turtles swimming around the beautiful corals and interesting algae. There is no other diving places in the world which offer similar experience as in the Sipadan Island, Malaysia.
Sipadan Diving in Malaysia - Highlights
There are many things that make this place very popular, for example: clear waters, blue skies, tropical scenery, comfortable diving experience, beautiful sea animals, tropical weather, and many more. Here are some diving spots that you need to visit while you are here.
Sipadan Diving in Malaysia - South Point
It is one of the most common diving spots at the Sipadan Island. South Point offers you with colorful and beautiful walls, turtles, sharks, big and small fishes, and many more. In this place, you will be able to see the rare animals, such as thresher or hammerheads sharks. Diving along this place allows you to enjoy the beauty of this Sipadan Island. Many tourists like to visit this beautiful place because it has a lot of beautiful stuff to enjoy. You can dive around in this place while enjoying the beauty of the coral gardens with many different underwater world activities.
Sipadan Diving in Malaysia - Barracuda Point
Barracuda Point is also considered as the most popular diving spots. This place is very popular with barracuda. It is a great thing to swim around this area while watching the beauty of barracuda fishes around you. There are also many different types of turtles, jacks, snapper, and also bannerfish which are swimming around this area.
Sipadan Diving in Malaysia - Turtle Cavern
This cavern is quite large and exciting. You are able to see many turtle skeletons on the seabed while you are diving in this area. It is one interesting place that you need to visit when you are in Sipadan Island. If you are lucky enough, you will be able to see a marauding horde of bumphead parrotfish in this Turtle Cavern.
If you want to have Sipadan diving Malaysia experience, try to learn about the diving season in this place. Many tourists believe that the best season for diving in this place is around April to December. Try to visit this place around July and August to get the most unforgettable diving experience. You should not visit this place between January and March because of the rainy season. It is not recommended for you to dive in this place during rainy season, since it will reduce the visibility. It can be dangerous for you to dive on the rainy season.
This beautiful island is very popular in the world. There are some periods where the resorts are fully booked. The busiest periods for this island are from March to August, New Year holiday, Chinese New Year day, and Christmas day. Try to book in advance if you want to visit this place during those busy periods.
Another thing that you need to consider before visiting this place is the diving permit in Sipadan Island. If you want to dive in this beautiful place, you need to get the diving permit here. However, this place only allows 120 permits every single day. It means that you are not allowed to dive in this Sipadan Island when the permits are sold out. Therefore, you need to stay at least 4 nights to have opportunity to dive and enjoy the beauty of Sipadan Island.